New Paintings 2013
Opening reception: Saturday, November 2, 4 – 7pm
Exhibition dates: November 2-30, 2013
Artist Talk: Friday, November 15, 11am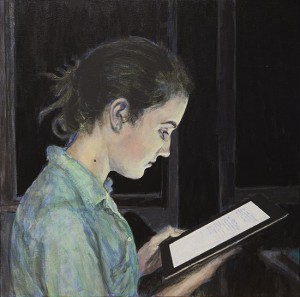 Much of Redmond's body of work has been devoted to exploring the concept of place. At times, Redmond explores the concept of place through objects. For example, in the mixed media painting Tabasco, a bottle of hot sauce embodies the essence of New Orleans and its rich cultural traditions when juxtaposed with various newspaper headlines and advertisements. For Redmond, place can be defined as a site or sight, but it is always affective, tactile, visual, textual, and inhabited.
Despite the specificity of place or subject matter, Redmond's paintings are immediately recognizable and resonate with viewers. Indeed, viewers need not be explicitly aware of the intimate connection Redmond has with his subject matter in order to
appreciate the clarity and perception of his visual representations. Redmond's figurative work often draws
inspiration from art history or memories. "The source for Mom and Dad 1928 was a family photograph taken years ago with my mother's Brownie camera. The sepia tone image on the dog-eared, 4.5 x 4.5 inch print inspired this interpretation on canvas with the paint colors derived from memories."
In "The Reader", viewers will recognize the reference to Jean-Honoré Fragonard's portrait Young Girl Reading. Redmond playfully modernizes the 18th century canonical image of a young girl reading by replacing the light source and object of the young girl's attention. In Redmond's revision, the book is replaced by an electronic reading device that illuminates the subject with a cool blue-green glow. While Redmond's upgraded portrait is imbued with humor, that humor is never irreverent.